Trang Pham – Australian Property Management Commercial Manager
"I have had some very good mentors in this business. My career journey has been met with good leadership style from my direct report to the company CFO who has been both firm and supportive to drive the best out of me."
At 16 years of age, Trang boarded a plane from Hanoi, Vietnam with her mother to complete her year 11 and 12 education in Melbourne. From here began her extraordinary and dedicated efforts to stay in Australia and develop a successful career in property management.
With just two suitcases and a rice cooker, Trang's Australian journey began. Her mum insisted she pack the rice cooker, so she had something to cook with when she arrived. Trang reflects on that time and says, the only thing she knew to cook was fried rice so there was a lot of fried rice for dinner.
"I was somewhat privileged back in Vietnam having everything done for me. Now I had to do it myself and I had to get top marks at school to be accepted for a university scholarship. If I didn't, I would have had to go back to Vietnam after finishing school because university costs were so high and difficult for my parents to afford," Trang Pham says.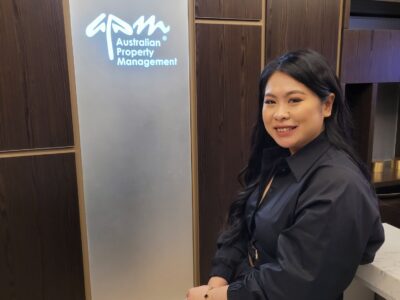 "Mum left me with a roommate she had found through family friends and returned to Vietnam … I had to do well because there was no way I was going back to Vietnam. At school I learned everything I could, get home, cook some dinner and then more study to get a top ATAR, which I did.
"I was looking around for scholarships – Melbourne Uni was too expensive; I couldn't find any scholarships at RMIT and then La Trobe University was offering excellence scholarships to international students. I applied and was awarded the scholarship.
"This paved my way to be able to stay in Australia and fulfil the criteria my parents had set out for me."
Trang obtained a Bachelor's Degree in Accounting from La Trobe University.
Trang's formative years were certainly a strong grounding for her success navigating a career to today being the Commercial Manager of Care Property's Australian Property Management (APM) extensive business in Australia.
"My early experiences in my new adopted country of Australia have shaped me to understand the journey that many new immigrants face in Australia and helps me be a better leader in our company where there are many employees from foreign lands working with us."
Trang has just celebrated seven years at Australian Property Management and her journey has been one which started from the ground up. She was undertaking a professional year in accounting after her university degree, during which she was offered a full-time position at APM. She has progressed through different roles as an Accounts Assistant, Portfolio Accountant, being mentored to take on leadership roles, to being the Strata Finance Manager and now the company's Commercial Manager.
"All these opportunities were presented to me to continue to progress my career. There have been challenges along the way navigating some differing personalities and overcoming these in a positive way to shine through to the other side.
"I have had some very good mentors in this business. My career journey has been met with good leadership style from my direct report to the company CFO who has been both firm and supportive to drive the best out of me. He drives outcomes by example and it is a leadership style I am keen to deliver in my own journey."
Trang says driving a positive culture within the APM business is integral to the company's success for itself and the clients it manages. That is one of our biggest achievements here to have achieved a good company culture.
"I am very proud of the team we have here. The team have become like family to me while working together to create successful outcomes for the business.
"During this past year we have kicked a lot of goals as a team and that's something I'm very keen to continue to drive as a leader," Trang Pham says.